I recently had the pleasure to speak to Ryan Shuck (frontman of Julien K).  Ryan has a long history in the music industry.  Ryan and Amir (from Julien K) were both guitarists in the multiplatinum band Orgy.  Orgy might have been most known for their cover of New Order song "Blue Monday" which hit # 4 on US Alternative charts and # 2 on US Dance charts.  Ryan also sang in that band as well.  Another big thing for Ryan along with Julien K bandmates was being part of Dead By Sunrise fronted by the late Chester Bennington from Linkin Park who Ryan was really good friends with. Dead By Sunrise released one album called "Out Of Ashes."
After being a guitarist for a while with the huge 90s band Orgy, one of the first questions I asked him was how he became a frontman of a new band.  You will have to read the interview to see the full response, but to start you off, as interesting as it is, Chester Bennington encouraged him a lot to be lead singer of a band because he thought he had good potential.
Julien K has a big summer ahead of them as they have a lot of headlining dates for the "California Noir" tour as well as opening dates for Bush, Stone Temple pilots, and The Cult tour.  Although the Revolution 3 tour is such a cool tour, you will miss out on some things if you don't see the Julien K headlining shows as Ryan talks more about in the interview. However, Ryan is still really excited to be part of the Revolution 3 tour as he is a big fan of all three bands.  Ryan says they got to be a part of this tour thanks to Gavin Rossdale (singer of Bush) and Jeff Warner (Stone Temple Pilots manager) who helped make that happen.
Although Julien K will be playing mostly songs from "California Noir" on these upcoming tour dates, the band is busy recording a new album called "Harmonic Disruptor."  It is a crowd funded album like their other albums which is doing really well.  He talks about how grateful he is for his fans and thinks they are the best fans in the world for helping out with these projects.  About this new album though, the band is going back to their roots.  Also for the lyrical subject, a lot of it has to do with Chester Bennington's death as it would be hard for Ryan not to mention in his new songs as they were best friends.
Interview with Julien K lead singer Ryan Shuck
RYAN: Hi Scott
AR: Hey, How's it going?
RYAN: Alright.
AR: For those who are not familiar with your history in music or Julien K, I think I should start out by saying you were a member of 90's band Orgy and Dead By Sunrise which included Chester Bennington of Linkin Park.  Why after being a guitarist in Orgy for three albums did you decide to become the lead vocalist of a new band?  How do you like the difference of being the lead vocalist now after being a guitarist of a band?
RYAN: In Orgy I always singed and I also wrote vocals.  So from 2000-2004 or so they would probably see I sang on 40 percent of the stuff live.  I always sing and Chester was always instrumental in teaching me to kind of step it up a notch.  He claimed there was some talent and he encouraged me to step up and be the lead singer of what became Julien K.  Julien K was an unintentional band.  We didn't mean to be Julien K.  We really meant to continue Orgy, but Orgy just seems to fall apart, with you know for some reason Jay just seemed not interested in doing it.  We tried many many times to try and get the band together and do stuff with the band.  It was just a completely dysfunctional situation.  Amir and I very very much wanted to do Orgy.  So Julien K is basically a product of what Amir and I did when we continued to make music.  And then a guy like Chester Bennington who would become my best friend you know like 18 years ago.  Over 8-9 years, he was kind of coaching me saying like "hey man, why don't you step up and be the singer?"  I just didn't think I was good enough to do it.  I didn't think that.  We were working for someone else to sing and funny enough Chester even said he wanted to join the band and we were laughing.  He was like "I'm Julien K now" and it was such a Chester Bennington thing to do, but that led to us creating the other side of Julien K which was Dead By Sunrise.  That was giving Chester the opportunity to have a band that supported his songwriting and the band would write parts around his ideas.  What people may not know is that Chester was very much a part of helping us do what we do as well.  Very very much kind of a member of the band.  He sang on our albums.  He filled in for me on Projekt Revolution to sing the entire Julien K set.  He came out and surprised everyone because I had to fly home for my brother's wedding.  That is how deeply connected we were.  But he is really the reason why I became a singer of Julien K.  We didn't mean to be a band, but our big multiplatinum band kind of stopped being a band. And we formed Julien K.
AR: I think it would be good to talk about the big tour you will be apart of soon being the support act for Stone Temple Pilots, Bush, and The Cult on the Revolution 3 tour.  How did this come about?  You must know Ian Astbury of The Cult and Scott Weiland from contributing to the Wondergirls project.
RYAN: I don't.
AR: Oh you don't?
RYAN: I don't know Ian.  I did not know Scott Weiland despite how close Chester and I were and I just met the Stone Temple Pilots guys for the first time at Chester's funeral.  So even though Chester and I were as close as we were, there would still be large periods of time where we would both be touring in different directions or out promoting albums or making albums.  I did see Chester perform with Stone Temple Pilots.  Oh no I met Stone Temple Pilots at a show Chester did, but I didn't really know them.  So I have met them a few times casually.  This tour came about as a combination of my connection to Stone Temple Pilots manager Jeff Warner and my friendship with Gavin Rossdale.  So when I found out about this tour, with an independent band like Julien K, and I hear there is a tour with three bands I love, you throw your name in the hat.  By throwing my name in the hat, what I did was calling people I used to work with and still love me like Jeff who obviously managing Stone Temple Pilots and I go "hey Jeff we're available man, I'd love to tour.  If there's any possibility, please let me know.  I love these bands." And by the way I'm a fan of all of them.  Absolutely.  And I was super great friends with Gavin.  I just casually got to know him a little better recently and I mentioned him, and we put our name in the hat and I think that combination of everyone just being rad human beings just gave us that opportunity to be part of that tour.  And we were completely linked to an indie band with no label backing and that allowed us to play these huge giant shows with rad bands.  It's a really big deal for us.  Even though we've been on the other side, we've been the big band.  We don't carry on like big rock stars.  Not Julien K.  We don't do that.  We don't play that game.  We act like we are humble and stoked.  I would say thanks to Gavin and Jeff Warner, you know they really let that happen.  It's fucking rad man.
AR: But you contributed the Wondergirls right?  You never met Scott or Ian from that?
RYAN: You know I casually probably met them.  But I don't know them.  I probably casually met almost everyone in the music business.  But I don't really know them so I would never claim to know them in a unique way.
AR: So it's a huge tour hitting large amphitheaters.  You said you were excited and I'm sure you were a fan of them growing up with Orgy being in the same circle right?
RYAN: Yeah of course I'm a huge fan of all of those bands. I grew up with The Cult.  Stone Temple pilots was a huge disruptor when they came out.  That was amazing and I'm a big fan of Bush.  Bush is awesome.  So the tour is just perfect.  I think once the fans make the connection that this band they never heard of, Julien K actually got more members of Orgy in it than Orgy.
AR: (Laughs)
RYAN: (Laughs).  And a lot of this band like our music in Orgy is what we do with Julien K.  Because I think that we're carrying on that torch.
AR: Yeah, that's cool.  It definitely seems like it could be a great opportunity for you to gain new fans.  Will you have any sort of strategy for gaining new fans by maybe playing certain songs that you think their fans will gravitate to more?
RYAN: Absolutely.  We will do a set for that type of crowd.  We do that anyways, so just like any good DJ.  We are doing a Julien K headlining tour in between all of these dates, before and after it.  We're doing a California Noir summer 2018 tour around the entire country.  That will be pretty much a Julien K show with full production.  The whole deal.  We're playing most states and markets.  There's like 40 dates including the Bush dates, but for the Bush/Stone Temple Pilots/The Cult dates, it will definitely be more of a rock show.  We will play more of our rock songs.  More guitar heavy songs.  But that's all part of the fun.  That should be cool.  We will probably surprise people with an Orgy song because it will be nice to remind everyone who we are.  I think it will be surprising and fun for everybody.
AR: I think I saw that you guys are working on a new album.  Will you be playing any new songs on the tour?
RYAN: We are going to be playing songs from "California Noir" which is the latest album that's out.  The actual original full length double album.  It was part of our crowd funded albums.  It is # 1 in the world every single year including the current one.  But we aren't going to be playing songs from "Harmonic Disruptor."  That is the album that is in the works right now.  This tour is supposed to be supporting "California Noir."  "Harmonic Disruptor" will come out in 2019.  It is being crowd funded right now.  We got $20,000 in one day.  It went to # 1 and hung out at # 1 for a week.  It's worthy for a band because we don't really show up on any charts.  So we like to do this stuff in public and get to be known on the crowd funded charts and it hit # 1 and our fans are amazing.
AR: You recently released an ambitious project recently called "Time Capsule: A Future Retrospective" which contains unreleased songs, demos, live acoustic takes, and remixes. I'm sure this was received well by the fans?  I can imagine hardcore fans loving this project being released.  Was there a lot of recording done for this project or did you have a lot in the vaults already?
RYAN: Both.  We had a ton in the vaults and we also had to record some stuff and I mean actual finished cd stuff that I just remembering finished in the past, so it was really funny because I had to go back and find the way that I sang back then.  So I had to go back and re-identify those parts and reconnect where I was at that point so it would have continuity so I wouldn't have to re-sing the entire fuckin song.  One of the things we wanted to do here is, we wanted to take stuff that I did back then.  We wanted it to have that feeling of that time.  And that was actually really interesting.  It was fun to see how easily I fell back into that singer as opposed to the singer that I am now who could do it almost any night, but back then I might have been more limited, but there was something cool about that.  It was fun.  It was extremely ambitious.  We worked on it for years.  It was all stuff that we thought was really good music and just on any album.  You know when we do an album like "California Noir," there's a _______.  You know so anything we write that doesn't really work in that world, then that goes in the vault and it doesn't meant it's not a great song.  We weren't just going to change anything and shove it on every album.  And the interesting thing we found out was both the _______ of the unreleased material all ended up working together like an album.  Really fun.  It turned out to be like a really cool album.  The fans were like "holy fuck, why didn't you release this shit?"  But when you do an album like we did with "Death To Analog," we're going for a sound and a thing and a story and a vibe and we are creating like a fashion collection you know.  And so sometime you can take a cool piece of clothing and work you got to work with that collecting.  So you maybe have to save it and use it later or use it as an influence or something different.  And that's what we ended up doing with the Time Capsule concept.  It turned out to be a really awesome thing that we did for our super fans.  We're not going to radio with one of these songs.  Even though the fans are wondering why aren't we going to radio.  I'm kicking myself a little bit, but you never lose putting out great music for fans.  You never lose.  The success of the campaign proves it as it was our most successful campaign.  And not only that, what people can't see is the sales success that happened after the campaign.  It's a very very cool project.  I'm really proud of it.  Some of that stuff will get played live at some point too.  Some fans like some of that stuff so much that and they are going "are you going to play "darkest days of my bitter youth?"  The answer is probably.  We probably are.
AR: Out of all the "Unreleased & B Side" songs on this project, which one is your favorite and why did it not make one of your previous studio albums?
RYAN: "Darkest Days Of My Bitter Youth." That was definitely my favorite.  Its also turned out to be a fan favorite.  It just didn't really go with what we were doing on "We're Here With You" and it had a very unconventional chorus.  "We're Here With You" had a lot of special choruses and it has a very international feel of touring the world and it kind of had a message we wanted to get out.  And we were not just in America for the first time.  The independent band Julien K broke out and we went all over the world.  We got to bring our music to other countries.  That was kind of the concept on what we wanted to do.  Literally, we made it for the whole world.  "Darkest Days" just didn't really speak to that, so fortunately with the vault, it's really cool.  Super cool song.  It just didn't work for that message.
AR: One disc on this project are the "Live & Acoustic" songs.  How is it performing these songs acoustically compared to with full band arrangements?  Your songs on your studio albums seem to have a lot more to them than an acoustic setting performance.  I imagine it would be very different from your full band arrangement performances.  How do your fans react to your acoustic performances?
RYAN: We discovered after touring acoustically with Chester and in Dead By Sunrise acoustically that…….Actually our first live show…..at some point we are going to release the actual video.  We have it all recorded, so no one knows that.  But we don't know.  We are not trying to make money by it by throwing out all this material.  There are lots of materials to consider what we want.  This is all our friends.  There are a lot of things to consider about when to release it.  We have to put out things when it will make our fans happy.  But it turned out so fucking good when we played acoustically.  We never even played our music live before for an audience and we played acoustically in Vegas for a Club Tattoo event.  And we filled out an auditorium and it was so good that Chester looked at all of us and was like "Why don't we just do this acoustic show?  This is way cooler" and our fans loved it.  After being kind of an electronic big kind of band for a long time, I think we discovered there is a whole other side to present our music.  We started saying yes to events that were acoustic and a lot of it was special stuff with Chester where we would play a couple of Julien K songs and then a couple of Dead By Sunrise songs, and a Linkin Park song.  That actually happened.
AR: Wow
RYAN: That's where that Stars Of The Season came from and that was when Chester and I were the best that we've ever been together.  Literally it was like an album live.  We were perfectly in sync.  We were perfectly in tune.  He just knew exactly what I was going to do and I knew what he was going to do.  We had that comfort level of playing together for so long.  That's why we put it on there.  It was special.  Moving forward though, we learned that our songs translate incredibly well acoustically because we are songwriters.  We're not just electronic guys.  We are guitar players. I wrote a song at a pool in Palm Springs.  You know, on an acoustic guitar.  A lot of our songs starts with riffs and stuff like that.  We are traditional at the end of the day.  You know, we are heavy electronic but we are traditional.  I'm a singer/songwriter.  You know I can teach acoustic guitar and go to Starbucks and probably make $300.  That's my skillset.  That's what I do.  That's what I can do.  We offered a perk for our first campaign, or second, I think that's what it was.  I own five restaurants in Orange County, so we offered a perk for $150.  We were going to make dinner and do an acoustic show at on of my restaurants.  And we sold out of it.  And we did the show.  The show was packed.  So now we've done it every year for every campaign.  And we change the set, we change the light, change the special guests, but it turned out that we're a really really good acoustic band.  We can take two guitars, we can do it with drums, electronic drums, whatever.  We sound really really fucking good.  Its like a special tool that we have to present out music.  Fans love it.  I think when they hear a song toned down, they what's really going on and they can actually hear me.  The response is huge.
AR: My next questions you kind of answered.  It was about then Stars and Season acoustic benefit show that you performed with Chester.  I listened to those songs.  That was really cool how you guys kept on switching vocal parts throughout the song.  Was it weird performing these songs with Chester with how they were Julien K songs and not Dead By Sunrise songs? 
RYAN: No because we did it all the time.  He played with us all the time.  If there was ever a chance he can play with us, he would come up on stage.  I think he joined Julien K probably 70 times.  He jumped on stage and performed with us so many times.  Like we played more together in some sort of collaborative way in Dead By Sunrise and Julien K. That was just one of them.  And that's why it's so good.  That's why we released it.  We were on fire at that point.  We just were so good at what we were doing.  It was really magical.  It was like "wow I can't believe I'm playing a song with someone that's so good."  He was such a great singer and such a force of nature.  That was one of the times in my life where we were looking at each other when performing and I was like "I'm fucking lucky.  I'm a lucky guy."
AR: Last question, Can you talk a little bit about what the new album that is being worked on, sounds like?  Or do you not want to get into that now if it is too early?
RYAN: No, you can actually listen to a song from our new album on our IndieGogo campaign.  We have a pretty cool commercial that works.  You can do a pitch on IndieGogo but we completely ignore that concept.  We make a really really rad music video and we a lot of the new album with parts of new songs like peeks or bits.  We give people almost 4 minutes of music.  So you can hear pretty clearly what the fuck is going on.  You can definitely tell the band has taken a turn to the dark side.  And we are very very much going back to our roots.  And going back to the ideas on Orgy.  We're breaking out a lot of the gears that we used in Orgy.  We're kind of bringing some of the sounds back that we think that our fans loved.  We're going to bring some of the sounds back that our fans love.  But by listening to this little commercial that we put together you can tell there's more anger and there's a lot of pain in it because we lost the most important person in our lives.  There's going to be a lot of dealing with that.  And there's going to be a lot of pouring that into this album.  "Harmonic Disruptor" before Chester passed was us going back to our original kind of disruptive kind of nature.  We're going to go back to "Death To Analog," we're going to back to Nine Inch Nails "broken," and back to Ministry and all of the things that influenced this harder electronic edge that we had.  We're bringing back all of my seven _______key ________ guitars and our baritones.  All of that stuff that we used to make all of that kind of music.  We're brining that back out.  We are the original people so we are going to do it.  It's going to be rad.  But I think people will be most shocked by the vocals and how much aggression there is.  So far it has been going great.  It is exactly what we wanted to do.  We wanted to make an album that our fans would love.  You know what I mean, so that was the idea for "Harmonic Disruptor"  It's like right when you think we're going down "California Noir," it has this sound developing or it is like breaking this_____ over your head that we're still the same people that you thought we were.  And you know it's going to make the fans super happy.  But it took on a whole new meaning when our world was shattered.  And that really gave me as subject matter.  You know dealing with the loss and dealing with ……Mike put out "Post Traumatic" about like what happened.  I'm amazed by Mike Shinoda.  I am absolutely amazed by how quickly he was able to do that.  He's a fucking production machine.  And he's a wizard, that guy is badass.  For us, we don't have a record label, we don't really have a support staff.  We don't have anything like that. Every night we played doubled stuff.  We can't put out an album that quick.  We can't.  We got to tour, we got to all those stuff.  But if you like Julien K, if you like Orgy, you will love "Harmonic Disruptor."  We're going to give you a dose of exactly what you are looking for.  We are about our fans.  We think about what they want.  We think about how we can align them with what we do.  And that's how we have been able to pull of what we have been doing.  With all the support for the band, with all the crowd funding, and we will see how this tour does. It is going to be a great challenge.  We're going for broke.  We're bringing this.  We're bringing a whole production lighting.  We're going to get all sorts of stuff that a band like us shouldn't have.  We're doing it.
AR: Yeah I look forward to seeing you opening at the Bush/STPCult show
RYAN: You're not going to get to see the production stuff. Kind of a bummer.  We will be playing kind of a short set since we're the openers.  It will probably be when it is light outside.  Yeah so unfortunately you won't able to see what we're bringing on our show.  You know what I mean?  It will still be rad to see Julien K on a giant stage.  But you won't get to see the production of what we're going to be bringing into these club shows.  Which is kind of rad.  Yeah we will be playing these headlining shows in between all the big shows.
AR: Yeah a lot of work
RYAN: Fuck yeah.  Oh yeah.
AR: Thanks for doing the interview.  I'm glad we found a time that worked for both of us.
RYAN: Thank you
AR: Have a good one
RYAN: See you man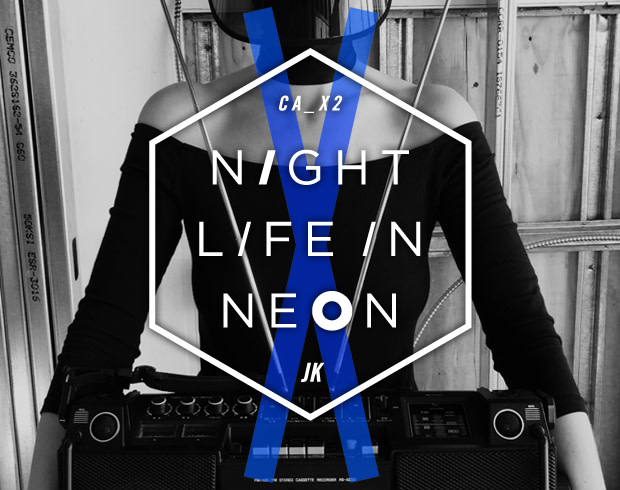 Be sure to check out "California Noir Chapter Two Nightlife in Neon" on Spotify HERE and iTunes HERE to get ready for the summer shows.
Julien K on social media and more: