Cavo released their first full length album in 2006 called "The Painful Art Of Letting Go.  They followed that up with an EP in 2008 which featured the single "Champagne" which got the band radio airplay and even alter lead them to get an opening slot for the big 90s band Stone Temple Pilots.  Lucky for them, people from Warner Brother Records attended this show and Warner/Reprise signed them after that.  With the major label backing, they released the album "Bright Nights Dark Days" where they did some co-writing, one with Zac Maloy of The Nixons.  "Champagne" which was also on this album, was re-released as a single and went to # 1 on the Billboard Mainstream Charts.  It is a rock album and pretty melodic at times.  The album also featured the single "Crash" which did well on the charts as well as "Let It Go," which was on the soundtrack to the movie "Transformers: Revenge Of The Fallen" next to huge bands like Linkin Park, Nickelback, The Fray, and Green Day.  The success of this album also led them to tour with Daughtry and Lifehouse on Daughtry's "Leave This Town" tour in 2010.  They also went on a headlining tour after that with support from American Bang, Shaman's Harvest, and more.
Cavo released their next album "Thick As Thieves" in 2012 which seemed to have a more harder sound than "Bright Nights Dark Days."  The album featured the single "Thick As Thieves" which is pretty intense and if you would say "a fight" song.  They also filmed a pretty cool music video for the song.  Another standout track from the album (one of my favorites) is "Hold Your Ground" which is another hard and intense song.  Another song from the album which is a slower one in tempo is "Never Gonna Hurt" which was co-written by Jason Wade of Lifehouse, a positive thing that happened to the band that came from touring with Lifehouse in 2010.  This album also got them on a pretty big tour, this time the Carnival Of Madness tour with Evanescence, Chevelle, and Halestorm.
The band's most recent album "Bridges" was released in 2015, though also re-released recently in 2017 with a deluxe edition including bonus songs such as "Wreck Me" and "Hush."  "Bridges" as a whole is definitely a unique album for the band featuring straight up rock song like "Nights" and some more slow songs in tempo like "On Your Own."  The album also has some more experimental songs for the band like the first single "Stay" & "Weather Rolls" which after an interesting intro, turns into a huge rock song.  The album is seemingly different from anything they every did before, though seems to combine influences from all their previous albums.  If you had to compare it to their other albums though, it seems to sound more like "Bright Nights Dark Days" than "Thick As Thieves," though still has the influence of "Thick As Thieves" with the big rock songs especially on "Weather Rolls" as discussed before.  What also made this album unique is that it has zero co-writes, which Andy talks about more in the interview.
For some background info on Andy Herrin, he is the drummer of Cavo.  Andy started playing with Cavo when he filled in on the Carnival Of Madness tour when Chad La Roy decided to pursue other things.  Andy was a close friend to the band, before he filled in on drums on the Carnival Of Madness tour.  Andy also has credits for playing the drums for the Nashville based band Repeat Repeat.  Andy also currently has a big gig being the host of "The Local Buzz" of Nashville Rock Radio Station: 1029 The Buzz.
Interview with Cavo drummer Andy Herrin
AR: "Wreck Me and Hush" seem like songs that were that were originally recorded for "Bridges."  Were they?  Why did you choose to release these two songs specifically for the re-release?  What made these stood out from other songs you could have released as bonus tracks?
ANDY:  Nailed it man, those two tunes were written during the writing process for "Bridges". We wrote like 50 something songs throughout that time and narrowed it down in the end. It's funny because I remember us all really liking "Wreck Me" so when it came time to re-release it on Pavement, that was the first song to come up as an extra song. "Hush" was kinda the same way. I always wanted those songs to see the light of day so I was really excited to put them on there.
AR: "Thick As Thieves" as an album seemed more harder and louder than your other albums.  Even though "Bridges" is unique on its own, it seems to sound closer to "Bright Nights * Dark Days."  What influenced the sound of "Bridges" to sound how it does?
ANDY: I think the fact that we wrote "Bridges" all on our own with Zero co-writes and just 100% Cavo is why it sounds that way. We also weren't trying to fit a mold or a certain sound so it just sounds like us, which was exactly what we wanted overall.
AR: "Bridges" also has a pretty diverse set of songs.  You have some straight ahead rock songs like "Nights," "On Your Own" is a pretty simple song, and "Weather Rolls" is a big unique rock song.  It seems like you guys experimented with numerous things on this album?  Can you talk about that why it came out like that?
ANDY: When we went into writing this album, we said we weren't going to allow ourselves to be bound by any rules. No song was off the table and no Sound was off limits. It was actually a really freeing thing because I feel like we all listen to a lot of stuff and we all have different ideas so it was fun to just try everything.
I think the album really reflects that.
AR: "Nights" is a great song and leadoff track for the album.  I love the line in the chorus "if it's a war you want, then a war you'll get."  It sounds intense.  Do you know what those lyrics are about in that part of the chorus if it isn't too personal for Casey or whoever wrote those lyrics?
ANDY: •I remember "Nights" was the first song of the new batch of tunes we were really excited about. We had been writing for a few months at that point and one night that song just came out of nowhere and we finished it right away. Even the beginning where casey says "this song is cool" before the music starts, was totally impromptu and Casey just being funny but we loved that laid back vibe so much we put it on the actual recording haha.
•The lyrics to that song kinda shows where we were at that time. It was kinda us having to prove ourselves and weren't going down without a fight.
(Acoustic Version of "Nights."  Couldn't find a full band version)
AR: The drums for "Nights" seem pretty intense too.  Can you talk about how it was recording the drums for that song?
ANDY:  Thanks man. I really wanted a driving beat with that song but I wanted really big tom hits to kinda hold back the vibe A little at the same time. I was listening to a lot of Middle Class Rut at that time so that's probably where that vibe came from since the drums on those records are so upfront and those dudes destroy.
I've always liked making music like that. I felt that "Nights" was a pretty straight forward rock song with a great chorus so why not throw in some drums to make it kinda weird. Well at-least that's what I attempted to do haha.
AR: Besides "Nights," how was it like recording the drums for this album?  What made it different from recording the drums for past albums?
ANDY: It was a really fun and physical experience. It's a pretty drum heavy record and  we actually finished the drums in 2 days. We only had a limited amount of time to record, we did the album at Matt Noveskey's Orb studios in Austin, TX. Not only is Matt a bad ass bass player for Blue October but he's equally an amazing producer.
I remember we'd finish the drums to one song, take 5 to listen to the notes for the next and then go again. I remember thinking "holy shit I should've wrote easier parts" at the time haha. But it really pushed us to be great and I always work better under pressure. I like the thrill of knowing something has to be done quick and right and you just have to rise to the occasion I guess.
AR: While "Stay" seems like a Cavo song, it seems kind of different for the band with the interesting chorus and other things?  Can you talk about that and how the music for that song came about?
ANDY: "Stay" is one of my favorite cavo songs ever. Chris actually wrote the music all on his phone and Casey went over to his house and laid down the vocals and lyrics. I remember being at my house in Nashville and Chris texted me the demo of "Stay" and it was SO good. I got so excited when I heard it. It was really different for a Cavo song but the fans seem to always want us to play it. It's such a simple message lyrically. I think everyone can relate to that song in some way.
AR: "Weather Rolls" seems like one of the most unique songs on the album .  It starts with a very interesting intro and then explodes into a big rock song which seems to create a dramatic effect.  What influenced this song to be what it is and how it came to be one of the most unique songs of the album?
ANDY: We actually had two songs that we were messing with and then one day we decided to combine them and that became "Weather Rolls". I love that song, it's fun to play live and is such a great opener with that intro. And the drums are really fun. It's kind of a dance beat but also straight forward rock. It gets people bouncing in the crowd I've noticed haha. Which is always rad to see.
AR: The band was on some big tours in the past including the Carnival of Madness and with Daughtry and Lifehouse?  How was it like touring with a big lineup of bands on those tours?  I think I read "Never Gonna Hurt" off of "Thick As Thieves" was co written by Jason Wade of Lifehouse (at least on the lyrics).  Did touring with all of these bands lead to any other collaborations with these artists or will it in the future?
ANDY: We've stayed friends with a lot of the bands we've toured with. It's hard not to when you spend so much time together on the road. We've also been lucky to tour with a lot of really rad bands. We would love to collaborate more and we recently have been talking about that actually. It's crazy how many People I know are now living in nashville. I'm hoping soon all of my friends will be here haha.
AR: What's next for the band?  Will you tour more for "Bridges."  I also think I saw you posted on twitter that you were back in the studio?  Are you recording or writing new music for the band?
ANDY: •We're hoping to hit the road soon. We're currently recording a special ep kinda thing with songs from "Bridges" to be released soon. We have a bunch of extra players and friends in the studio with us to make it a really cool thing. Getting to hear the songs played this way is really fun.
•Also next year is the 10 year anniversary of the first record "Bright Nights Dark Days", so we're planning some stuff to celebrate that.
•And then also we're writing for a new record as well. We don't wanna go as long between records again so we wanna get it out sooner than later haha.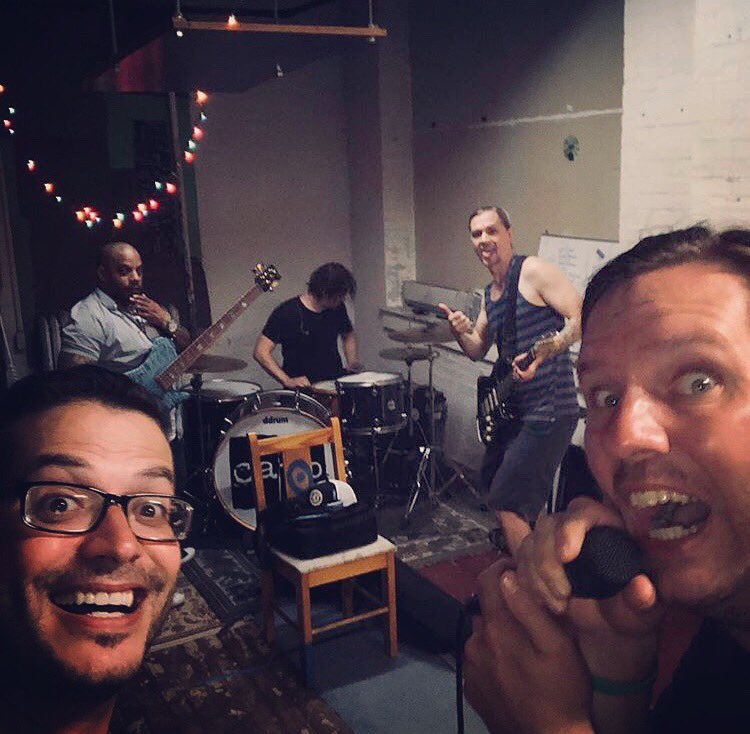 Be sure to Check out all of Cavo's music on Spotify: HERE
The new deluxe album "Bridges" on Spotify with two bonus tracks and an alt. version of "Champagne": HERE
You can also check them out on iTunes: HERE
Cavo/Andy Herrin on social media and more:
Cavo
Andy Herrin