Chris Daughtry has come a long way since American Idol.  After leaving the show becoming one of the most successful acts to come out of it even though he didn't win, Clive Davis got in touch with him so he could start his own band.  The band, called Daughtry released a successful first album with help from big singles like "It's Not Over," Over You," "Feels Like Tonight," and "What About Now."  There was also another single featuring Slash called "What I Want."  The music from this album was getting a lot of attention including TV spots with WWE for their Backlash Pay Per View and their Tribute To The Troops show.  On top of that, the band got nominated for 4 Grammy Awards in 2008.
In 2009, the band released their second album "Leave This Town" where Chris had two co-writes with Chad Kroeger of Nickelback on the singles "No Surprise" and "Life After You."  He also co wrote a song with Jason Wade of Lifehouse on the album for a B Side "Long Way."  The album debuted number one on the Billboard Charts.  This album had great songs just like the first one and showed some good growth for the band.    The band also released the album "Break The Spell" in 2011 which was another good rock record.  Chris said one influence for the album was Steven Tyler of Aerosmith on the song "Outta My Head."
While the first three albums were great albums, the band decided to do something new for the fourth album maybe because they thought they didn't branch out so much.  With this album "Baptized," it was definitely a different record where guitar rock wasn't the focus compared to the first three albums.  While this angered some fans, it got the band some new ones.  The single "Waiting For Superman" for example did really well.
With kind of a long break in between albums, Daughtry is back releasing their new album "Cage To Rattle" this Friday, July 27th.  As Chris talked about in the interview, this album is a return to guitar rock.  However, don't example a duplicate of other albums though as this one has them exploring new territories too.  I think that shows with the first song they released "Backbone" which has a gospel rock feel to it.  It is a really cool song with a positive message about not giving up.  The first single from the album "Deep End," kind of has an 80s vive to it, but still sounds like Daughtry though exploring new territories too.  Another song they have been playing live from the new album is "Back In Time" which has a swing vibe to it kind of.  I thought it reminded me of "Outta My Head" from their Break The Spell when I first heard it.  When I saw the band live, Chris talked about how excited they were to play this song.

Interview with Chris Daughtry:
AR: Hi Chris
CHRIS: Hey Scott, How are you doing?
AR:Good how are you
CHIS: Great
AR: So the new album "Cage To Rattle" is being released in a little over than a week.  I know you said in other interviews that the album is kind of different from anything you guys have ever put out.  Judging by the songs that were released already, it does seem that way, but kind of has your distinct style.  What do you think influenced the album to be like this?
CHRIS: Yeah I think it is simple as I love listening to different styles of music and I've been listening to a lot of indie over the past few years.  Just really wrapping my head around a bunch of different styles and production techniques and we wanted to bring guitars back into the mix obviously.  At the end of the day we are a rock band.  We're a guitar rock band and we wanted to make sure that this record reflected that and there's that combined with so many different influences like a song called "Back In Time."  That is different that anything we everyone before.  The original idea came from our bass player Josh Paul and has this weird kind of eerie, funky vibe to it and he didn't even think it would work for us, but we were instantly attracted to that and wanted to develop something around it.  So I think that we were just being open to different approaches to songs and the way we about it and working with a different producer who has kind of a little more indie flare to him.  I think all of that made it to be a more interesting band and made us better players.  It influenced the songwriting for what songs made it and which ones didn't.
AR: Yeah I thought "Back In Time" reminded me of "Outta My Head" from Break The Spell.
CHRIS: Oh that is interesting.  I didn't think of that yeah.  But yeah it has a little bit of that and a little bit of a swing vibe and I don't know it goes over so well live.  And it is a song that is on a record that nobody has heard of yet, so it is really cool to have it in that setting when fans aren't expecting new songs that they know.
AR: Out of all the new songs you put out so far, "Backbone" is my favorite and I thought it was cool when I heard it for the first time when I saw you guys in Long Island NY at the rotating stage.  It seems like a real unique rock song for the band and kind of pushing the envelope from what people know of you.  I miss the band's older style but it is definitely cool to hear a song like this.  Are you happy with the way this song came out?
CHRIS: Oh I love it.  It is one of my favorites on the record.  As a matter of fact, it was really the song that I think had a huge influence on the way the record turned out sonically and elements that kind of make a common thread on the record.  With the bluesy chant and things like that are really stuff we haven't experimented with before, but I have a deep affinity for, so I wanted to utilize those melodic opportunities.  And bring in more of that kind of gang vocal quire, the gospel feel, and I love that.  It reminds me of like the old Johnny Cash stuff kind of bringing in that rootsy vibe.  Yeah we had a blast doing that.  I remember all of us standing around this wooden box, stomping it and clapping it, you know the chant for it and it was such a cool experience that we haven't really done on a record before.  I think that's one of my favorites on the way it turned out.
AR: "Deep End" is also cool.  I like how the song seems to kind of have drama in the music and lyrics.  What influenced the song to be like that?
CHRIS: Yeah I mean I think I love the 80s kind of vibe to it and there was a few other songs that was written for the record that didn't make it that were so straight up 80s.  It was too much fo a departure for the record, but I love those real inferior moments for the vocals, just kind of swim in your face, so I thought it was a perfect song for that kind of approach.  We never really done anything in that lower register that was at least on the radio and thought that was a nice new way to present ourselves back out to the world.
AR: Yeah I thought the vocals definitely sounded different at the beginning when I first heard it
CHRIS: Yeah I recorded those vocals in my bathrobe
(We both laugh)
 AR: All those songs I heard so far seem to sound somewhat different, but also has a similar vibe to it.  What can you say about the other songs on the new album that haven't been put out yet or played live?
CHRIS: Let's see there is a song called "Death Of Me."  That was one of the first songs written for the record and actually got the title of the record from this song.  There's a lyric in it, "another day, another battle, we all have a cage to rattle" and that song is really predicated one frustration, just moving and getting settled and just feeling super chaotic with the kids.  It was just a particularly hard year of like….I was living in LA at the time, very new for us, and I was complaining about the weather and all this stuff like melted into the lyrics and that was a really standout song for me.  It became one of my favorite songs that I have written in a long time and I remember we wrote this song to the same writing _________ of Scott Stevens.  We were writing when I was here in LA , where we wrote "Backbone" together as well, but we wrote the song called "Stuff Of Legends" and it was the day after Prince passed away.  We have just got the news and it hit me like way harder than any….like I lost a lot of heroes in my day, but this one for whatever reason, just man drives me so hard and I remember when we had to go to session that day when we could have done a power ballad or whatever and we were just like screw that.  We were like "What would Prince do right now?" We just started playing this funky riff and we were just like riffing back and forth.  What the song is about and like "what would prince do?"  And it should be like the Stuff Of Legends and we were like oh that's the name of the song.  So it was kind of this empowering song that was created in honor of Prince really.
AR: The producer on this album Jacquire King seems to have diverse talents with how he worked with rock artists like Kings Of Leon as well as pop artists like Niall Horan.  Why did you choose King to produce the album?
CHRIS: Well, originally we kicked around who we could get to produce the record and subsequently who lives in Nashville, so I don't have to go back to LA and now that we're all settled, I don't want to like go exactly where we just moved from and do the record.  And I heard that Jacquire lived close by and was like well he will probably be too cool to produce us.  The people at the label though were like let's give him a call and see if he even has the time. I remember he agreed to have a meeting with me and I went down to his studio and sat with him and was like "what kind of record do you want to make?"  I was like "I don't know."  "I just want to make a cool record."  "I want to make a cool rock record,"  I want it to be real, I want it to be……..I want it to be a nice hybrid, I want it to be believable for lack of a better term."  I know there weren't a lot of fans that were on board with "Baptized" and understandably so.  It was a vast departure and the band wasn't on the record.  I wanted it to be a band record.  I want it to sound like a rock band again.  But I was like to him "I'd thought you would be too cool for us."  He was like "honestly if you want my opinion I think you guys are cooler than what people think of you and I would like to have the opportunity to show that.  I was like "hell yeah," he said all the right things and I was intrigued.  It proved to be a very drying……it was a lot of work.  It was not a very easy record and that's probably a good thing.  He said if there was any consolation for you, "There was no great record that was easy to make" so hopefully that's a good sign.
AR: You will be going back on tour soon.  What can fans expect from the new shows?  Will a lot of new songs be played?
CHRIS: Yeah we got two of the new songs in the setlist and we just got back from Asia and played a few of them over there and it went over well and now we're in the process of kind of refining the setlist for the US tour, trying to keep it exciting and fresh especially for fans that came out on the last tour.  We just want to make sure we are giving everyone their money's worth.
AR: You seemed to get a very good response to when you played some covers with David Cook.  I think you guys have a lot of the same fans.  How was it like playing with him and is there any chance of a collaboration with him in the future?
CHRIS: It was so awesome.  He is such a great dude and we have been friends for a while and never really have a chance to hang out or jam out together or whatever and we both do this charity in Kansas City and they said "hey you guys are both going to be here, we should do a couple of songs together."  I was like "hell yeah." We were just kind of messaging each other back and forth.  I was on the road and he was in Nashville leading up to the charity.  So we didn't have any rehearsal time.  He would send me a voice memo.  I would send him a voice memo.  I do my part and he does his part.  Whatever.  And we had like 5 minutes to go over it before then and then that night.  It was a loud dressing room.  It was kind of like "oh well I guess we're going to have to wing this."  It turned out so fun and we locked into together so well.  I didn't realize how great our voices blended together.  It was a lot of fun.  Yeah
AR:Yeah it seemed cool.  Thanks so much for doing the interview.  I appreciate it.  
CHRIS: Absolutely thanks for taking the time to talk to me.
AR: Yeah sure
CHRIS: I appreciate it man.  We will see you soon.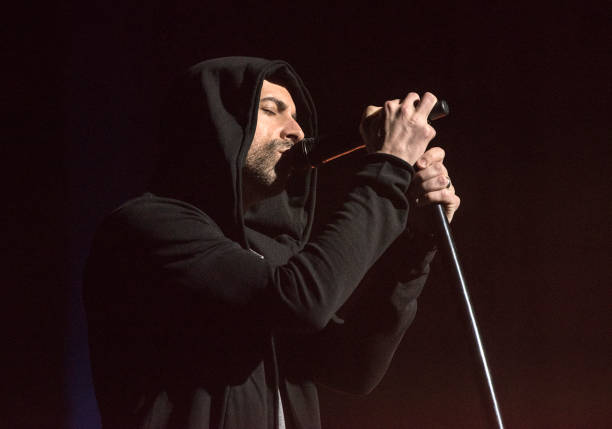 Be sure to check Daughtry's new album "Cage To Rattle" on Spotify and iTunes when it drops this Friday.
And be sure to check the band out on tour to support the new album:
SAT, JUL 28, 2018

MURPHY FIELD
NEWPORT NEWS, VA

SUN, JUL 29, 2018

RWJ BARNABAS HEALTH ARENA
TOMS RIVER, NJ

TUE, JUL 31, 2018

ROCHESTER AUDITORIUM THEATRE
ROCHESTER, NY

WED, AUG 1, 2018

RIDGEFIELD PLAYHOUSE
RIDGEFIELD, CT

SAT, AUG 4, 2018

MUSIKFEST
BETHLEHEM, PA

SUN, AUG 5, 2018

DECATUR CELEBRATION
DECATUR, IL

TUE, AUG 7, 2018

FIVE FLAGS CENTER
DUBUQUE, IA

WED, AUG 8, 2018

ORPHEUM THEATER
SIOUX CITY, IA

FRI, AUG 10, 2018

ASHLEY FOR THE ARTS FESTIVAL
ARCADIA, WI

SAT, AUG 11, 2018

IOWA STATE FAIR
DES MOINES, IA

TUE, AUG 14, 2018

20 MONROE LIVE
GRAND RAPIDS, MI

WED, AUG 15, 2018

ROSE MUSIC CENTER AT THE HEIGHTS
HUBER HEIGHTS, OH

FRI, AUG 17, 2018

CAPE COD MELODY TENT
HYANNIS, MA

SAT, AUG 18, 2018

SOUTH SHORE MUSIC CIRCUS
COHASSET, MA

TUE, AUG 21, 2018

HAMPTON BEACH CASINO BALLROOM
HAMPTON BEACH, NH

WED, AUG 22, 2018

MERRILL AUDITORIUM
PORTLAND, ME

FRI, AUG 24, 2018

THE WELLMONT THEATER
MONTCLAIR, NJ

SAT, AUG 25, 2018

THE PARAMOUNT
HUNTINGTON, NY

SUN, SEP 2, 2018

MOUNTAIN VIEW PLAZA
SNOQUALMIE, WA

TUE, SEP 4, 2018

ROSELAND THEATRE
PORTLAND, OR

WED, SEP 5, 2018

ATHLETIC CLUB OF BEND
BEND, OR

FRI, SEP 7, 2018

THOUSAND OAKS CIVIC ARTS PLAZA
THOUSAND OAKS, CA

SAT, SEP 8, 2018

TALKING STICK RESORT SHOWROOM
SCOTTSDALE, AZ

FRI, SEP 14, 2018

THE MOUNTAIN WINERY
SARATOGA, CA

FRI, SEP 21, 2018

BLOOMSBURG FAIR
BLOOMSBURG, PA

SAT, SEP 22, 2018

OC INLET PARKING LOT
OCEAN CITY, MD

TUE, SEP 25, 2018

RYMAN AUDITORIUM
NASHVILLE, TN

WED, SEP 26, 2018

OVENS AUDITORIUM
CHARLOTTE, NC

FRI, SEP 28, 2018

TABERNACLE
ATLANTA, GA

WED, OCT 3, 2018

BEACON THEATRE
NEW YORK, NY

FRI, OCT 5, 2018

H. RIC LUHRS PERFORMING ARTS CENTER – SHIPPENSBURG UNIVERSITY
SHIPPENSBURG, PA

SAT, OCT 6, 2018

EMERSON COLONIAL
BOSTON, MA

FRI, OCT 12, 2018

O2 ACADEMY BRISTOL
BRISTOL,

UNITED KINGDOM

SUN, OCT 14, 2018

O2 ACADEMY LEEDS
LEEDS,

UNITED KINGDOM

MON, OCT 15, 2018

O2 ACADEMY GLASGOW
GLASGOW,

UNITED KINGDOM

WED, OCT 17, 2018

MANCHESTER ACADEMY
MANCHESTER,

UNITED KINGDOM

THU, OCT 18, 2018

O2 ACADEMY BIRMINGHAM
BIRMINGHAM,

UNITED KINGDOM

SUN, OCT 21, 2018

EVENTIM APOLLO
LONDON,

UNITED KINGDOM

THU, OCT 25, 2018

GRAND ARENA, GRAND WEST
CAPE TOWN,

SOUTH AFRICA

SAT, OCT 27, 2018

TIMES SQUARE ARENA
MENLYN, PRETORIA,

SOUTH AFRICA

WED, NOV 7, 2018

KING CENTER FOR THE PERFORMING ARTS
MELBOURNE, FL

THU, NOV 8, 2018

MAHAFFEY THEATER
ST. PETERSBURG, FL

SUN, NOV 11, 2018

POMPANO BEACH AMPHITHEATER
POMPANO BEACH, FL

TUE, NOV 13, 2018

CHARLESTON MUSIC HALL
CHARLESTON, SC

FRI, NOV 16, 2018

SANDLER CENTER FOR THE PERFORMING ARTS
VIRGINIA BEACH, VA

SAT, NOV 17, 2018

PARX CASINO – XCITE CENTER
BENSALEM, PA

TUE, NOV 20, 2018

CAROLINA THEATRE
DURHAM, NC

WED, NOV 28, 2018

REVENTION MUSIC CENTER
HOUSTON, TX

THU, NOV 29, 2018

MAHALIA JACKSON THEATER OF THE PERFORMING ARTS
NEW ORLEANS, LA

SAT, DEC 1, 2018

AZTEC THEATER
SAN ANTONIO, TX

SUN, DEC 2, 2018

BOMB FACTORY
DALLAS, TX

FRI, DEC 7, 2018

COPERNICUS CENTER
CHICAGO, IL

SAT, DEC 8, 2018

MURAT THEATER
INDIANAPOLIS, IN

TUE, DEC 11, 2018

ORPHEUM THEATRE
OMAHA, NE

THU, DEC 13, 2018

PARAMOUNT THEATRE
DENVER, CO
Daughtry on social media and more:
Tw